NanoRev is a modular electrochemical platform that can easily be adapted for diverse applications. The NanoRev solution consists of:
Functionalized Electrode Sensor – The heart of the NanoRev technology that delivers sensitivity and specificity. Electrode functionalization is unique for each application.
Diagnostic Base Unit – Reads the signal form the electrode and sends compressed data to the computer via Bluetooth or wired connection.
Surface Pro Tablet Computer – Where machine learning algorithms are applied to interpret electrochemical data and return quantitative results in a matter of minutes.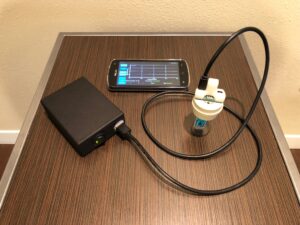 Third generation NanoRev System with multiple electrodes for point of care or lab use.
Pepsin (acid reflux and throat cancer)
Drugs of Abuse
Stress and fatigue biomarkers
Cancer Related Biomarkers
Hormone Biomarkers
Cardiac Health
Inflammation
Electrolytes (Hydration Status)
Allergies
Get lab-quality results without the need for a lab and highly trained personnel. NanoRev gives you what you need, when and where you need it.
NanoRev uses intelligent electrode functionalization and machine learning to overcome challenges that have previously prevented electrochemistry from delivering the needed sensitivity and selectivity required for modern applications.
It All Starts with the Biosensor
Screen printed electrode based biosensors are functionalized for each application using additive manufacturing methods.

Electrode functionalization provides application-specific selectivity and specificity and enables use of complex sample matrices.

Ultra-sensitive impedance measurements are used to sense the binding of a sample analyte to the functionalized electrode.

For biological applications, NanoRev takes a 'biology as a circuit' approach and leverage antibodies to deliver unparalleled specificity.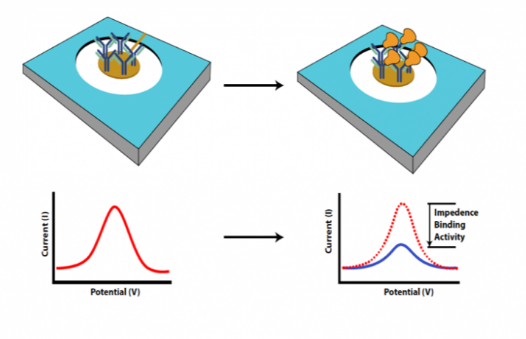 Machine Learning Makes it Easy
Proprietary machine learning allows the NanoRev system to quickly be trained for new applications and deliver reliable, quantitative results without the need for highly trained staff.

Complex sample matrices that deliver complex electrochemical data are analyzed using AI to quickly glean insights.

AI interprets all electrochemical data and determines which parameters to use for each application's quantitation. User bias and skill are not a factor.
Together, intelligent electrode design and machine learning based software provide NanoRev with selectivity, sensitivity and rapid quantitative analysis capabilities to support a wide range of applications.
Want to learn more or talk about a specific application?